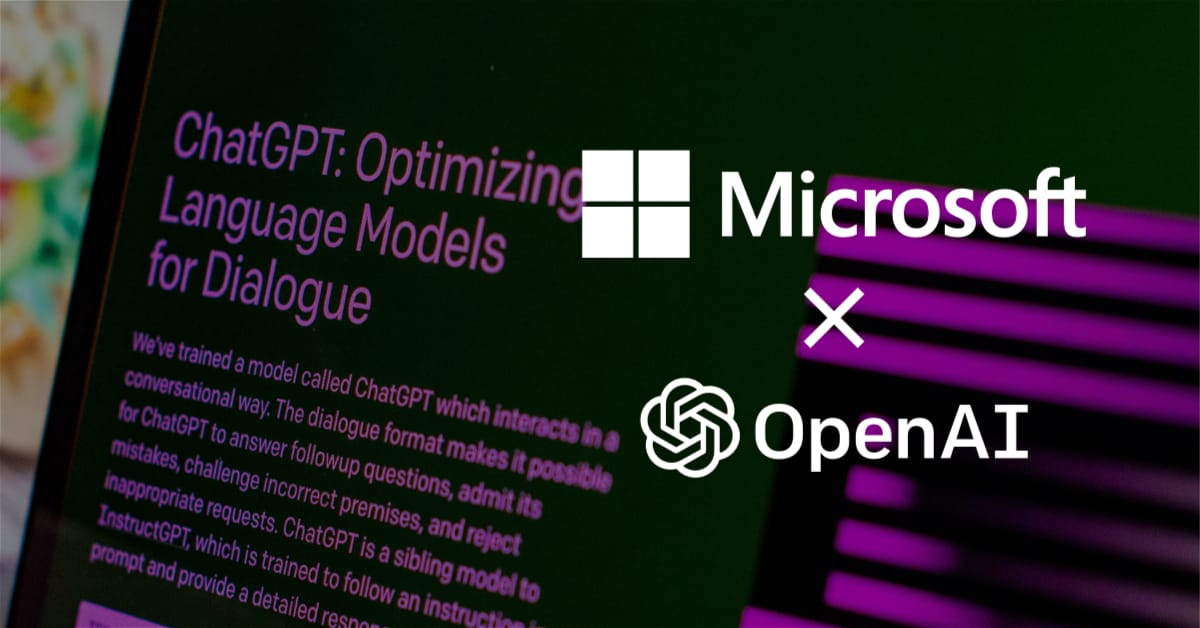 Author: Pawan Kotharkar
Microsoft announced on January 23rd, 2023 the third phase of their partnership with OpenAI through a new multiyear multibillion-dollar investment. Although Microsoft did not announce an exact figure for investment, some reports suggest that it amounts to $10 Billion. But how does Microsoft benefit from such huge investments? To understand that first let's look at the history and some of the most groundbreaking tools from OpenAI and Microsoft's history with OpenAI.
OpenAI is an Artificial Intelligence research company founded in 2015 by Elon Musk, Sam Altman, Greg Brockman, and Ilya Sutskever. Their mission is simple – researching artificial general intelligence and ensuring that it benefits all of humanity. Some of the tools from OpenAI like DALL – E (Image generating AI) and ChatGPT (Text generating AI) have taken over the internet by storm. ChatGPT has gained the most fame for its ability to answer all kinds of questions in a human-like manner. And if you're wondering why Microsoft is investing large amounts, this is not their first time. Back in 2019, Microsoft announced a $1 Billion funding to OpenAI, allowing Microsoft to be the exclusive provider of cloud computing services to OpenAI and will continue as the new wave of investment is announced. By 2021, the investment amount had risen to more than $3 Billion.
Microsoft in their blog post said that the investment would allow them to improve in the areas of supercomputing systems, and new AI-powered experiences and continue to be OpenAI's exclusive cloud provider. The main takeaways from this investment are the benefits Microsoft would receive in their product line. Microsoft's office suite seems to benefit the most if we carefully consider it. Word for example can take the help of ChatGPT like AI to assist in writing reports and other text material with human-like accuracy, this way the user can just focus on providing insightful points and let the AI expand on those points. Similarly, Microsoft Powerpoint's Designer can take the help of Dall-E to create slides with custom Images. Microsoft's recent announcement to integrate ChatGPT with Bing serves as the most current and finest illustration of the success of this effort. Yes, the same Bing that had been gradually losing ground in the market for search engines, is now using AI to respond to user inquiries, this has allowed Bing to improve the user experience, and compete more effectively with Google in the search engine market.
Microsoft also recently launched "Designer" which is a little different from the PowerPoint version but it does the same thing, takes your input and creates well-designed content for all your needs, be it social media or any other design, and it uses Dall – E 2 to create unique images for your designs along with Microsofts own AI technologies. Currently, it is in its testing phase with an option of joining a waitlist to get an early peek of the platform. All these changes point to Microsoft getting ready to take on its latest competitor, Canva. For those who are unaware, Canva released its own suite of office tools on September 14, 2022, to go head-to-toe with Microsoft. With around 85 million global users and 180 designs made every second on the platform, Canva is already known as the best-known rival to Adobe's design products.
Considering the above, it is easy to see why Microsoft is making bigger bets with OpenAI. The current generation of consumers is focussing more on UI friendliness and the convenience of creating good designs without a professional degree or deep knowledge of design, both of which Microsoft had previously lacked. But with its newly launched Designer tool, it is clear that Microsoft is trying to capture the market using AI and get itself ready for its future users. It can be confidently said that Artificial intelligence is going to play a major role in all of Microsofts products and OpenAI is proving to be one of the best AI research labs in the world, which makes the investment look quite reasonable.
Whether we like it or not, AI is going to play a big role in our lives in the coming years. Despite the claims that AI will take away the jobs of people, I believe that AI will most likely assist us rather than do our work. Human creativity will still be needed to refine the design or add value to the content. The incorporation of artificial intelligence in its products and services will provide Microsoft with the competitive edge it needs to keep up with the new entrants in the market who have been continuously growing in recent years. With AI, Microsoft can innovate and enhance the user experience, staying ahead of the curve in a rapidly changing technological landscape. This will enable the company to attract and retain customers while staying relevant and competitive in the industry. AI will play a vital role in helping Microsoft stay ahead of the competition and maintain its position as a market leader.
References:
https://www.cnbc.com/2023/01/23/microsoft-announces-multibillion-dollar-investment-in-chatgpt-maker-openai.html
https://www.nytimes.com/2023/01/23/business/microsoft-chatgpt-artificial-intelligence.html
https://blogs.microsoft.com/blog/2023/01/23/microsoftandopenaiextendpartnership